July 13th, 2009, by alex
I recently got caught in a small whirlwind, and came out the other end a few days later.  Much like startup life, but on a much smaller scale.

---
Day 0: The initial excitement
On Thursday, I start noticing some amusing #1stdraftmovielines tweets - at first in @donttrythis's feed, then a few others. The idea is simple: Famous movie lines rewritten to what might have been a much less effective, but much funnier first draft.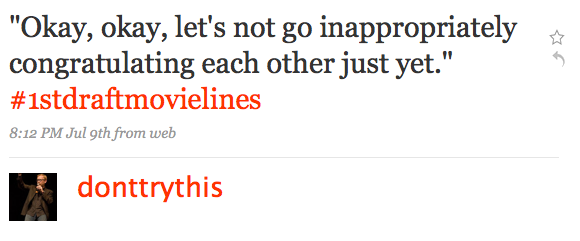 Naturally, like most people, when faced with a new phenomenon my first thought is: "Hmm, I wonder if the domain name is taken". Sure enough, 1stdraftmovielines.com is gone - someone probably beat me to it by a couple hours. A shame, since this seems like a natural idea for a voting type of site (think fmylife.com or tweetingtoohard.com).
I shrug and go back to work, but I can't let go of it - an hour later I come back, buy 1stdraftmovielines.net, and start hammering away at it.
I don't have much time - still trying to finish some "real" work for Friday - so I just make a SlinkSet Reddit-style site, and point the domain name at it. I plug in the Twitter search RSS feed as a way to import content into the site, but it's frustratingly slow - Slinkset undoubtedly has some caps on the volume of items imported that way, and it's only adding one every 5 minutes, while new #1stdraftmovielines tweets are coming in one every few seconds.  I mess around with Yahoo Pipes and additional feeds for a bit, but it's not going anywhere.  I add a bunch of items by hand just so the site doesn't look empty, link to 1stdraftmovielines.net from a couple of my existing sites so Google can find it, submit to reddit.com/r/funny, and leave it at that for the night.
Total time: half an hour trying to remember SlinkSet's name, at most 2 hours setting everything up, and probably another hour spent chuckling at #1stdraftmovielines on Twitter.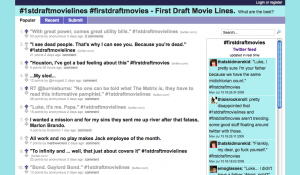 ---
Day 1: Hey, this might work!
Friday morning rolls around, and my brand new site is down. So is Slinkset, apparently. Woe, tragedy!! Have I missed out on untold riches and fame because of them?  Did my incredibly viral traffic bring all of Slinkset down??
Not really, it's back up in a few more minutes, and the Google Analytics hourly traffic suggests the downtime was pretty short. I got about 300 visits from Reddit, and another 50 or so from http://www.whatthetrend.com/trend/%231stdraftmovielines. More importantly, my site is first on Google for #1stdraftmovielines, and traffic is coming in steadily. People are submitting and voting on items. Great success!


---
Day 1: Uh-oh, the competition's here!
So I'm on top of Google, people are using the site, what could go wrong? Wait, what's this?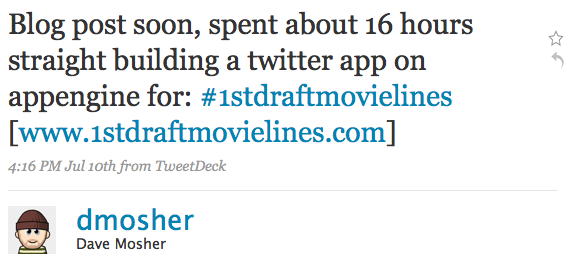 Ahhhh! While I was resting on the laurels of my 3 hours of work, the owner of 1stdraftmovielines.com pulled an all-nighter and came up with a much nicer, more polished, and custom-tailored solution. Uh-oh.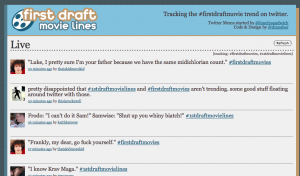 (unfortunately I didn't take a screenshot on Saturday, the page initially looked different - it had voting, a list of top items, and the real-time feed.  Now it seems to only have the real-time feed).
Just so that I don't completely get left behind in the features race, I replace my AdSense bar on the right (which has generated approximately $0.01 so far) with a real-time Twitter feed. What do you know - no ads and more features - competition IS good for users!

---
Day 2: First to market helps, execution helps more
So where are we? It's day 3 of the trend, day 2 of the two sites being operational. My .net site has a head start, already has some inbound links, users, and is first on Google. However, it's just a Slinkset site, doesn't really pull in tweets from Twitter by itself, and the design isn't great.
@dmosher's .com is second on Google, and Google has just recently stopped showing the "This domain is parked" title and summary. However, the site is much better designed and more suitable to the task.
It is clear that while I might be ahead in the short term, in the long term @dmosher will pull ahead. I could start developing my own version, and start competing on features, but there's another drawback - it already seems obvious that @dmosher is more excited about the idea than I am, and to put it simply - he wants it more than I do.  It's tough to compete with that. Even if all else were equal, I suspect the .com extension would become the tie breaker.
So I am resigning myself to being second in the #1stdraftmovielines market. But then…

---
Day 3: The market changed
#1stdraftmovielines has two drawbacks as a tag on Twitter: first, it's quite long, which is a problem given the character limitation for Twitter messages.  Second, searching by it is broken - #1stdraftmovielines returns nothing, while 1stdraftmovielines does, but that means that simply clicking on the tag won't return the results you expect. The community does what it does best - it adapts, by starting to switch to a different tag, #firstdraftmovies.

So now I'm left with a domain name for a dying trend. @dmosher has already reacted, with first.draftmovies.com. I'm not really willing to invest more time and money chasing this trend, so I just change the title and content of the page to include the firstdraftmovies keyword, change the realtime feed to the new search tag, and leave it at that.

---
Day 4: Dying in the Chasm
Traffic is falling, the trend is split among two (or more) tags, and people are posting less on Twitter under each of the tags. Doesn't look good.

(from http://hashtags.org/tag/1stdraftmovielines/messages)
My initial interest in the idea was a gamble: I knew the website wouldn't get too far just by mirroring a Twitter trend, but in the event that this trend grew bigger than Twitter, got picked up by the media, and became a phenomenon in its own right, then my website would be right there at the top of Google results.  I could find myself in the middle of something interesting, and it's been a while. Worth investing $10 and a few hours of effort, but not much more than that.
The trend seems unlikely to reach that critical mass now - perhaps because of the tag confusion, perhaps because it got started on a Thursday and didn't have a full week to grow before the weekend.
I still think the idea has legs - it's easy to understand, and people seem to like inventing, reading, and ranking first draft movie lines. The next step - assuming I had the dedication - would be to do everything in my power to push the idea to the mainstream: promote the site, make a Facebook app, keep the trend alive and growing outside of Twitter, keep fighting for it.
I have neither the dedication nor the time to pursue it - so there it will remain, unless it pulls itself out: in the chasm between early adopters and mainstream.


---
One for the road
My take home lesson: Twitter trends can be powerful yet fragile things, often with very short lifecycles. The traffic numbers tell the story: 2300 visits from Google searches, and, more interestingly, 180 visits from whatthetrend.com.
This is the part I find most interesting. whatthetrend.com likely received a couple thousand Google hits simply by automatically picking up the Twitter trend and creating a simple Wiki-like page for it (to which I added my link). Combine this across all Twitter trends, and you're starting to see some decent traffic for very little effort - Alexa and Compete seem to support this.
Here's a free idea, for anyone who wants to run with it:
build a web app which lets you set up voting-style sites for Twitter trends. It should pull in items from Twitter, let people vote for them, let people add items without going through Twitter, and figure out a way to limit spam.
monitor Twitter trends, whenever one comes up that seems suitable, set up a voting-type site for the trend with a simple click (and making a logo, maybe).
figure out a good way to combine multiple tags
you don't need a domain for each idea, a subdomain and some basic SEO should do the trick - your site will always be one of the first out the gate.
don't expect profit! The traffic will likely be nice, but don't expect much advertising money. Do it for the love of the project, not the cash.

---
Oh, just one more thing
For all the business types reading this: you'll note that I didn't write a single line of code for the entire project.  It's incredible how much you can accomplish just by using the countless free tools out there.